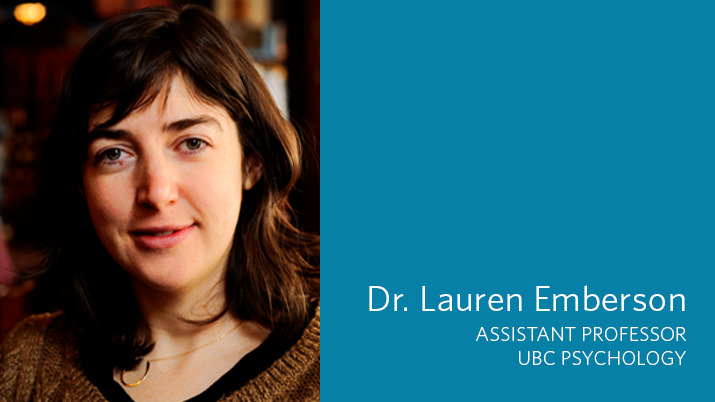 Coming back to where it all started, Dr. Lauren Emberson, director of the Baby Learning Lab, returns to UBC—home to her undergraduate experience—as an assistant professor in the developmental area.
Dr. Lauren Emberson's research focuses on developmental cognitive neuroscience and explores how new experiences impact an infant's neural and cognitive development. In particular, Dr. Emberson's research uses neuroimaging techniques with infants to study the mechanisms of learning in the infant brain.
"New research I'm particularly excited about is imaging while infants explore real-world toys (remember the real world!?) and seeing how their brain's change based on that experience vs. seeing the same objects or seeing the objects on a screen." – Dr. Emberson
In a Q&A, Dr. Emberson takes the time to share how her undergraduate experience at UBC set in motion her academic career, her current research, and her hobbies.
First of all, can you tell us a little about yourself?"
I'm incoming assistant faculty, coming from my first faculty position at Princeton University in NJ. I am Canadian. I grew up in Toronto and did my undergrad at UBC (graduated in 2005 in Cognitive Systems). So I spent a lot of time in the Kenny Building doing four years of research before heading off to grad school and my US academic career. I'm thrilled that my career has led me to UBC again and the Psych department (and back to Vancouver!). :)What kinds of questions do you try to answer through your research?"]I am a developmental cognitive neuroscientist. For folks not in psychology I often follow this by saying "I study baby brains." I want to understand how an infant's experiences lead to their neural and cognitive development. In particular, I ask questions about how both infant's brain and their behaviour change with new experiences.Can you give us an example of this in our daily lives?"Yes. We are all amazing learners. We pick up on new patterns of information quickly, automatically and often without our awareness that we are learning. For example, if I drop a coin on the floor and I ask you to identify which type of coin it was based on the sound it makes, you will do an excellent job at this. Did you ever set out to learn that? Likely not! This is an example of the incredible learning abilities we have and all the patterns that we learn. Infants have these incredible learning abilities too starting from their first days after birth (and likely while they are in utereo too!). We think that many key abilities that infants need to develop (e.g., learning language(s)) are based at least in part by these types of learning. I look at the mechanisms of learning in the infant brain and how they cause the infant brain to change and help them to develop and acquire new abilities.
How did you become interested in this line of research?
I started out as a pre-med, then was really fascinated by perception and multi-sensory integration in the adult brain (here at UBC! I was doing awesome research with Dr. Lawrence Ward and Dr. Alan Kingstone in a psychophysics and cognitive neuroscience perspective). While I loved that research, I found myself most compelled by questions of how these abilities came to be in adult, what were their origins, how were they build, how does an individual's lifetime of experience with their environment (and particular sensory input) lead to these abilities in adulthood. I also saw a lecture by Dr. Janet Werker which was really inspiring as an undergrad, and I loved/love her research showing how an infant's language experience shapes their speech perception. Based on all of that, I decided to apply to grad school and branch out into learning and development and the rest is history. As I continued on, I joined the efforts in the field to develop neuroimaging techniques that are suitable for infants and so now I can do neuroimaging with infants while they learn. It is my research dream!
Can you tell us about any new research that you are particularly excited about?
Many projects! But one that I'm particularly excited about is imaging while infants explore real-world toys (remember the real world!?) and seeing how their brain's change based on that experience vs. seeing the same objects or seeing the objects on a screen. I also want to start a project that records infant's brains while they play with their caregivers to see how the patterns of their input stimulate connectivity in their brains. I am also going to be starting some collaborations with clinicians and clinical researchers at BC Children's and Women's Hospitals to look at the impact of premature birth on neural development. We are planning to do neuroimaging with premature infants while they are still in the neonatal intensive care unit and see what and how they are able to learn.
Do you have a motto?
I don't have a motto but I tend to gravitate to particular quotes for a period of time. Right now I'm really enjoying this quote "This being human is a guest house. Every morning a new arrival. A joy, a depression, a meanness, some momentary awareness comes as an unexpected visitor. Welcome and entertain them all! Even if they are a crowd of sorrows, who violently sweep your house empty of its furniture, still treat each guest honorably. He may be clearing you out for some new delight. The dark thought, the shame, the malice, meet them at the door laughing, and invite them in. Be grateful for whoever comes, because each has been sent as a guide from beyond." – Rumi
What do you like to do in your free time?
I love to do anything outdoors. Anything from backpacking, trail running (with my greyhound), camping with my family, playing with my 3 year old on the playground or just swinging in a hammock. I love being outside. Exploring the beautiful country in BC is something I am very excited to do. I also love to cook and eat. My partner and I cook a lot together and now with our kiddo too. We are excited to explore all the amazing restaurants in Vancouver too! I also like to do some creative writing and read fiction.
Join us in welcoming Dr. Emberson!